Cabrera Opens it's Gardens to the Public
Cabrera Open Gardens - Sunday 10th May 2009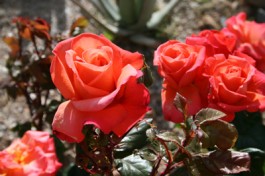 Open Gardens started out 6 years ago as a typically British idea of raising money for charity by opening private gardens to the public, giving not only a varied interpretation of Mediterranean gardening, but also stunning views of one of the most idyllic corners of Andalucía. It has, in the ensuing years evolved as an event many people look forward to. Year on year has seen a steady growth of visitors and with the slightly later date this year of the second Sunday in May and hopefully warmer temperatures, the organisers are hoping to exceed all records. Ticket sales last year numbered over 350 with people travelling to the event from as far away as Albox, Cuevas de Almanzora and all environs in-between. The chosen charity is again MACS (Mojácar Area Cancer Support) a very worth while cause.
Nine gardens are open to the public this year, encompassing a wide area of Cabrera. Within the nine gardens are three tea gardens offering tea or coffee and homemade cakes. Other added attractions are, an art exhibition from a local Cabrera artist with Cava or Bucks Fizz for 1€ to enjoy whilst savouring the art & views at El Castillico. A poster competition for the Cabrera fiesta is being held at Casa Medina, do go along and cast your vote. Plants will also be on sale at some of the gardens together with other various stalls. As last year, the ticket fee is 5€ which gives entry to all 9 gardens. Tea and cake is 3€. Tickets can be purchased from The Word in Turre or Albox, or on the day at the car park next to the arch in Cabrera.
Come along for a pleasant afternoon; just follow the sunflower trail from Cortijo Grande, if coming from the motorway, or from Turre on the back road via Torre Cabrera. We look forward to welcoming you to this beautiful mountain.
Article First Published: Thursday, 26th March 2009, 14:47 CET
Last Updated: Thursday, 26th March 2009, 21:25 CET
Author: Margaret Bird