Spanish Lesson 1
López y Sánchez - dos amigos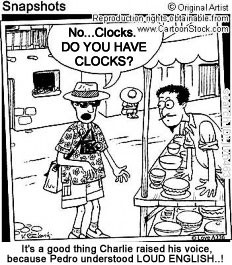 Diego López and José Sanchez are just two ordinary guys who live in Madrid. We are going to spend the next few months following them... and, whilst doing so, learn lots of Spanish. First, lets meet our two new friends... here is some information about them:
Dato Personales
Diego
Nombre: Diego López Carrillo
Edad: 49 años
Domicilio: C/Sevilla, 8, 3º D, Vallecas, Madrid.
Vive con su mujer Amalia.
Familia: Tiene dos hijos, Pedro, de 10 años, y Juana, de 12 años
Trabajo: mecánico de coches, trabaja en un taller de un concesionario del Renault
Aficiones: Real Madrid, billar americano, cerveza, salir de noche
José
Nombre: José Manuel Sánchez Ortiz
Edad: 48 años
Dirección: C/Cervantes, 53, 4 izda. Vallecas, Madrid
Familia: José está casado con Mari Cruz, no tienen hijos
Trabajo: Trabaja en el mismo lugar que Diego……
También es mecánico.
Aficiones: El cine, el tenis, el gimnasio, Formula 1, salir con los amigos
Introducción
Diego y José son amigos desde hace mucho tiempo. Iban al mismo instituto en Vallecas, un barrio de Madrid. Ahora los dos trabajan para la misma empresa. Son mecánicos, trabajan en un taller del concesionario Renault. Hacen las revisiones de los coches, y también arreglan coches de segunda mano.
VOCAB- NEW WORDS- NEW EXPRESSIONS!
edad - age
domicilio - residence, where you live
taller de concesionario - workshop (of car dealers)
aficiones - hobbies, pastimes
salir - to go out
billar americano - pool (American billiards!)
desde hace mucho tiempo - for a long time
iban (from the verb "ir") - used to go, went
instituto - secondary school
un barrio - a district or neighbourhood
la misma empresa - the same company
revisión (de coche) - (car) service
arreglar - to fix , repair
Remember some of the words given here can have other meanings, here we are learning the meanings in this context. Always try to use your dictionary, but don't be overwhelmed, just learn one meaning for now.
Look out for: Las aventuras de López y Sánchez coming soon.
Send us your feedback
To offer feedback about this article or to enquire about Spanish lessons in Albox, please click here and use the contact form.
Why not give our crossword a shot...
Click a clue to start, and then enter your answer. Don't forget to time yourself..!
Article First Published: Tuesday, 30th June 2009, 21:30 CET
Last Updated: Saturday, 4th July 2009, 15:54 CET
Author: Simon