Spanish Lesson No 7
El Año Nuevo
López y Sánchez………………….dos amigos
¡Bienvenidos de nuevo! Here is another story about our two friends…read it carefully and use the vocab guide below to help you translate.
Feliz Año Nuevo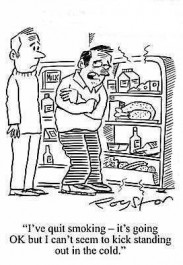 Ha hecho mucho frío en Madrid, y ha nevado durante unos días. Ya se han pasado las fiestas de Navidad y de Noche Vieja, y también el día de los Reyes Magos. Los niños de Diego, Amalia y Pedro, han recibido un montón de regalos de su padres y abuelos, a pesar de la crisis económica.
Jose y Diego están de vuelta al trabajo, y han salido a desayunar.
José Bueno, ahora tenemos que afrontarnos a la cuesta de enero, después de los excesos de Navidad.
Diego Sí, la verdad es que la Navidad cuesta una fortuna.
José Sí, no se cómo voy a llegar al fin del mes.
Diego yo tampoco.Todos tenemos que apretar el cinturón.
José ¿Y los propósitos para el nuevo año?
Diego Voy a dejar de fumar, como todos los años.
José Y yo voy a apuntarme al gimnasio, a ver si puedo perder estos kilos que me sobran. Diego- Los kilos demás demuestran que estás feliz. De todas formas, no podemos quejarnos, por lo menos tenemos salud y trabajo.
José Tienes razón.
VOCAB- NEW WORDS- NEW EXPRESSIONS!
Ha hecho mucho frío - it has been very cold
Ha nevado - it has snowed
Se han pasado - they have passed (they are over)
Han recibido - they have received
Un montón de - loads of
A pesar de - in spite of
Están de vuelta - they are back
Tenemos que afrontarnos - we have to face up to
La cuesta - the hill (here it means the uphill struggle!)
Llegar al fin del mes - make ends meet (get to the end of the month)
Apretar el cinturón - to tighten one's belt
Propósitos para el año nuevo - New Year's resolutions
Dejar de fumar - to give up smoking
Voy a apuntarme - I'm going to sign up for, put my name down for
Kilos que me sobran - kilos I have extra, excess kilos
Demás - extra
Demuestran - show, demonstrate
De todas formas - anyway
No podemos quejarnos - we can't complain
Por lo menos - at least
Tienes razón - you are right
Hasta la próxima
Las aventuras de López y Sánchez will continue next month...
Send us your feedback
To offer feedback about this article or to enquire about Spanish lessons in Albox, please click here and use the contact form.
Why not give our crossword a shot...
Click a clue to start, and then enter your answer. Don't forget to time yourself..!
Article First Published: Friday, 1st January 2010, 18:09 CET
Last Updated: Wednesday, 10th February 2010, 19:03 CET
Author: Simon