Spanish Lesson No 15
El Extranjero (segunda parte)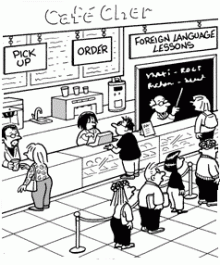 López y Sánchez………………….dos amigos
¡Bienvenidos de nuevo! Here is another story about our two friends…read it carefully and use the vocab guide below to help you translate.
El Extranjero- segunda parte
José y Mari Cruz han cogido a un estudiante para el verano. Se llama Eric, y es australiano. Mari ha ido a buscarlo al aeropuerto. Se han presentado, y ahora están en camino hacia la casa en el metro.
Mari - Pronto vamos a llegar a casa, sólo quedan tres estaciones. Vamos a pasar por la panadería a comprar pan. Eric - ¡Qué hambre tengo, no me gusta la comida que sirven en los aviones. ¿Qué vamos a comer hoy?
Mari - Hoy he preparado un cocido madrileño, quería hacer un plato típico de aquí.
Eric - ¿Qué es el cocido madrileño?
Mari - Es como un guiso de carne de cerdo y pollo, también lleva patatas y repollo, hueso de jamón, un poco de morcilla, garbanzos y zanahorias y otras muchas cosas…… es muy sabroso. Normalmente no lo hago en verano, pero quiero que lo pruebes.
Eric - Seguro que me va a gustar, en Australia nos gusta comer bien también.
Mari - ¿Qué se come en Australia?
Eric - Muchas cosas diferentes, pero hay mucho pescado, sobre todo en la costa, y nos gusta mucho la carne de vaca, los filetes…….en verano nos encanta encender la barbacoa e invitar a los amigos. A veces los invitados traen comida para echar a la barbacoa. Hacemos carnes y pescados y ensaladas diferentes, y bebemos cerveza.
Mari - Pues aquí vas a tener la oportunidad de probar nuestra gastronomía. Mira, ésta es nuestra estación, coge tu equipaje, bajamos ahora.
Eric - ¿Está lejos de aquí la casa?
Mari - No, sólo está a cinco minutos andando. El cocido está hecho, comeremos y después puedes echar la siesta.
Eric - Sí, una siesta, ¡ un buen invento español !
VOCAB-NEW WORDS-NEW EXPRESSIONS
En camino - on the way
El metro - the underground train
Quedan tres estaciones - 3 stations remain (quedar here means to be left or remain)
Madrileño - person or thing from Madrid
Un guiso - stew
Repollo - cabbage
Hueso - bone
Morcilla - black pudding
Garbanzos - chick peas
Zanahorias - carrots
Sabroso - tasty
Quiero quelo pruebes - I want you to try it (from the verb probar to try)
Sobre todo - especially
Bajamos - we are getting off (the train)
Invento - invention
¡Hasta Pronto!
Send us your feedback
To offer feedback about this article or to enquire about Spanish lessons in Albox, please click here and use the contact form.
Why not give our crossword a shot...
Click a clue to start, and then enter your answer. Don't forget to time yourself..!
Article First Published: Saturday, 4th September 2010, 15:14 CET
Author: Simon