Spanish Lesoon No 12
La Boda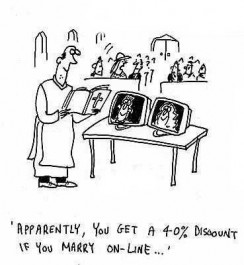 López y Sánchez...dos amigos
¡Bienvenidos de nuevo! Here is another story about our two friends…read it carefully and use the vocab guide below to help you translate.
La Boda
Diego López y su mujer, Amalia, y José Sánchez y su mujer, Mari Cruz, han sido invitados a una boda. Se casa un compañero del taller, Felipe.
La boda se va a celebrar por la iglesia, y después va a haber un banquete en un restaurante. Diego y José conocen bastante bien a la familia de Felipe, pero sus mujeres no se conocen.
Llega el día de la boda. Los dos hombres van con trajes, camisas blancas y corbatas.
Amalia – ¡Qué guapo vais los dos!
Diego - ¡Lo mismo digo yo! Estáis guapísimas hoy.
Mari Cruz - Muchas Gracias.
Las dos mujeres han comprado vestidos y zapatos nuevos para la ocasión.
Amalia - Espero que pueda aguantar todo el día con estos zapatos de tacón.
Mari Cruz - ¡Cómo sufrimos las mujeres para presumir!
José - ¿Todos listos? No queremos llegar tarde. El taxi nos espera. Vamos.
La iglesia está cerca y cuando llegan hay mucha gente en la calle hablando. Los dos hombres conocen algunos, y les presentan a sus mujeres. Poco a poco, la gente va entrando en la iglesia.
Una vez que todos están dentro la ceremonia empieza. La boda es tradicional; el cura les bendice, y se hacen los votos matrimoniales, y se dan las alianzas. También cantan unos himnos. La iglesia está llena a tope.
Cuando termina la ceremonia, todos salen para fuera, y les está esperando el fotógrafo a los novios, y hace muchas fotos. Mucha gente se acerca a los novios, felicitándolos. Todo el mundo está muy alegre. Después de media hora, llega una limusina para llevar a los novios al restaurante donde se va a celebrar el banquete. Los demás llevan sus coches, o suben a los coches de sus amigos.
El restaurante no está lejos, y todos llegan pronto al lugar. Al entrar, unas camareras les ofrecen una copa de champán, y tienen bandejas de canapés.
Amalia dice a su marido:
Amalia – Me tienes que presentar a los novios, Diego, sabes que no los conozco.
Diego- Es verdad. Vamos ahora mismo, y te los presento. José, Mari, ¡venid! vamos a saludar a los novios.
Los dos matrimonios se dirigen al fondo de la sala, donde se encuentran Felipe y su novia.
To be continued...
VOCAB: NEW WORDS - NEW EXPRESSIONS
Se casa - is getting married (present of casarse, to get married)
Por la iglesia - (here) in church, a church wedding
Va a haber - there is going to be (a form of hay, there is)
Conocen - they know ( from conocer ….to know, be acquainted with)
Bastante - quite, fairly (can also mean enough, sufficient)
La boda - the wedding
Trajes - suits
Corbatas - ties
Zapatos de tacón - high heeled shoes
Guapo/guapa - handsome/pretty (depending on gender!!)
Guapísimas - really pretty (……ísimo on an adjective is used to intensify it)
Aguantar- to put up with, endure
Sufrimos - we suffer (sufrir, to suffer)
Presumir - show off (here to look good, look the part)
Bendice - blesses (bendecir, to bless, verb like decir)
Los votos - the vows
Las alianzas - the (wedding) rings
Llena a tope - completely full (a tope…. Top the limit)
Felicitándolos - congratulating them (felicitar, to congratulate)
Alegre - joyful, happy
Los demás - the rest (here, people)
Suben a los coches - get into the cars
Bandejas - trays
Venid - come! (command form of the verb venir)
Saludar - to greet, say hello to
Se dirigen - they make their way to, from the verb dirigirse
El fondo - bottom, end of
Se encuentran - are to be found, form verb encontrar to find
¡Hasta Pronto!
Send us your feedback
To offer feedback about this article or to enquire about Spanish lessons in Albox, please click here and use the contact form.
Why not give our crossword a shot...
Click a clue to start, and then enter your answer. Don't forget to time yourself..!
Article First Published: Tuesday, 1st June 2010, 23:32 CET
Last Updated: Thursday, 3rd June 2010, 14:00 CET
Author: Simon