Spanish Lesson No 18
La Navidad 2010
López y Sánchez………………….dos amigos
¡Bienvenidos de nuevo! Here is another story about our two friends…read it carefully and use the vocab guide below to help you translate. Note the use of le and les with gustar and with other verbs (eg. Comprarles….to buy them (something).
La Navidad 2010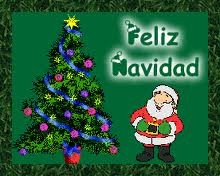 Se acerca la Navidad, una época del año para estar con la familia. Las calles de Madrid tienen un ambiente navideño, con sus decoraciones y luces, y todos los escaparates de las tiendas también están decorados. Esta Navidad Diego y José han decidido juntarse (con la familia, claro) para la cena de Noche Buena. Sus mujeres están hablando de los preparativos para la cena.
Amalia - ¿Qué vamos a comprar para la cena? Mari Cruz - No sé, lo de siempre, unos canapés, y unos mariscos, quizás una pierna de cordero.
Amalia - Vale, vamos al mercado, es el mejor sitio para comprar mariscos. Podemos comprar unos langostinos, unas gambas, unas almejas. Y en el mercado hay una buena carnicería.
Mari Cruz - ¿Y a tus hijos, qué les gusta comer?
Amalia - Ya son mayores, sabes, les gusta casi todo. No es como antes, cuando teníamos que comprar cosas especiales para ellos. De todas formas, vamos a pasar por la tienda de chucherías a comprarles algo.
Mari Cruz - Sí, a todos nos gustan las golosinas y los turrones.
Amalia - Y no olvidemos los mantecados, a mi Diego le encantan.
Mari Cruz - Voy a decir a José que se encargue de comprar las bebidas.
Amalia - Hace falta comprar unas botellas de vino, y una botella de brandy, otra de anís, y una botella de cava para brindar.
Mari Cruz - Qúe van a tomar los niños?
Amalia - Les compraremos coca cola y fanta.
Mari Cruz - Bueno, ¿vamos todos juntos al mercado?
Amalia - ¡Qué va ! Vamos tú y yo, es más rápido. Es mejor que se quede Diego aquí con los niños.
Mari Cruz - De acuerdo. Si vamos tú y yo solas, podemos pasar por las tiendas a comprarles a José y Diego un detalle. Voy a comprarle a José una corbata. Y tú, ¿qué le vas a comprar a Diego?
Amalia - No sé, a lo mejor una botella de coloña.
Mari Cruz - Vamos, ¡ en marcha!
VOCAB- NEW WORDS- NEW EXPRESSIONS!
Se acerca - approaches, is approaching (from verb acercarse, to approach or get close, go up to
Navideño - Christmas, (when used as an adjective)
Un escaparate - shop window
Juntarse - to get together
Noche Buena - Christmas eve
Mariscos - seafood shellfish
Langostinos - large prawns
Almejas - clams
Ya son mayores - they're older now, grown up now
De todas formas - anyway, in any case
Tienda de chucherías - sweetshop
Golosinas - sweets
Turron - tradicional Spanish sweet (in bar form, usually chocolate or nougat, there are many different types)
Mantecados - Christmas sweet, made with manteca de cerdo(pork fat)
Encargarse de - to be in charge of,take on the job of
Hace falta - it is necessary
Brindar - to toast (with a drink!!)
Un detalle - a small gift
Una corbata - a tie
Coloña - aftershave
En marcha - Let's get going
Hasta la próxima
Send us your feedback
To offer feedback about this article or to enquire about Spanish lessons in Albox, please click here and use the contact form.
Why not give our crossword a shot...
Click a clue to start, and then enter your answer. Don't forget to time yourself..!
Article First Published: Monday, 27th December 2010, 11:15 CET
Author: Simon