Spanish Lesson No 6
La Navidad
López y Sánchez - dos amigos.
¡Bienvenidos de nuevo! Here is another story about our two friends,read it carefully and use the vocab guide below to help you translate.
La Navidad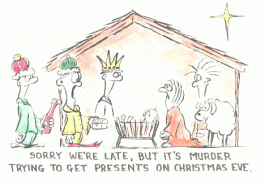 Es sábado, y se acerca la Navidad, y todas las tradiciones que vienen con ella. Madrid, como todas las ciudades grandes de Europa, cambia mucho. Las calles están llenas de decoraciones, luces de Navidad y árboles de Navidad. Los escaparates de los grandes almacenes están llenos de sus mercancías y las fachadas cubiertas de decoraciones navideñas.
Diego se ha recuperado de su accidente, y decide llevar a su mujer y sus hijos, Pedro y Juana, a ver las tiendas y comprar regalos de Navidad. Llama por teléfono a José, y él y Mari Cruz vienen también. Antes sólo se daban regalos el día de los Reyes Magos (el 6 de enero), pero los dos familias son más modernos, y ahora se dan regalos en Navidad. Llegan a la entrada del Corte Inglés, una tienda muy grande, y Mari Cruz dice a los dos hombres:
- ¿Por qué no vais vosotros a dar una vuelta mientras nosotras compramos nuestros regalos aquí? - Buena idea, nos vemos en una hora.
Así los dos hombres salen a la calle. Por casualidad, se encuentran con un amigo y les invita a tomar una cerveza. Entran en un bar, y piden cervezas. A partir de entonces, las cosas van de mal en peor, porque los hombres pierden la noción del tiempo, y no vuelven hasta dos horas y media después.
¡Claro que las mujeres están muy enfadadas! Al día siguiente, José y Diego salen solos a comprar unos buenos regalos para sus mujeres, y para los hijos de Diego también. ¡Seguro que van a pasar bien la Navidad!………
¡FELIZ NAVIDAD!
VOCAB- NEW WORDS- NEW EXPRESSIONS!
Se acerca - approaches (acercarse….to get closer)
Luces - lights
Los escaparates - shop windows
Los grandes almacenes - department stores
Mercancías - goods (merchandise)
Fachadas - facade, front of building
Se daban regales - presents were given (dar - to give)
Se dan regales - they give each other
Dar una vuelta - go for a walk round
Mientras - while
Nos vemos - we'll see each other
Por casualidad - by chance
Se encuentran - they meet
A partir de entonces - from then on
De mal en peor - from bad to worse
Pierden la noción del tiempo - to lose track of time
Están enfadadas - are angry
Al día siguiente - on the following day
Solos - alone
Pasar bien (la Navidad - to enjoy, have a good time
Hasta la próxima
Las aventuras de López y Sánchez will continue next month...
Send us your feedback
To offer feedback about this article or to enquire about Spanish lessons in Albox, please click here and use the contact form.
Why not give our crossword a shot...
Click a clue to start, and then enter your answer. Don't forget to time yourself..!
Article First Published: Tuesday, 1st December 2009, 17:39 CET
Last Updated: Wednesday, 2nd December 2009, 12:10 CET
Author: Simon