Spanish Lesson No 9
El viaje a la Sierra Nevada (segunda parte)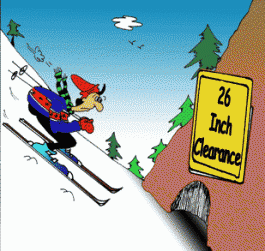 López y Sánchez...dos amigos
¡ Bienvenidos de Nuevo ! Here is the continuing story about our two friends…read it carefully and use the vocab guide below to help you translate. I have introduced a few command (imperative) forms of verbs, look at the vocab section, check your grammar books for how to form them !! If you read last month's story, you will know that our friends are going for a weekend's skiing to Granada.They are going to stay in a "cabaña" up in the Sierra Nevada, and have some ski lessons. Pedro and Juana, Diego's kids, are going to have a go at snowboarding.
El viaje a la Sierra Nevada (segunda parte)
Es viernes por la tarde, y están listos para salir….
Diego- ¿Conseguiste las cadenas?
José- Sí, me las dejó el jefe. Bueno, yo creo que eso es todo, ¿no?
Diego- Sí. Vamos, chicos, ¡ subid al coche, nos vamos ya !
José- Son las tres y media, si todo va bien, podemos estar allí sobre las nueve. Pararemos a merendar en el camino
Diego- Está bien. Y mañana tenemos que madrugar, porque tenemos clase de esquiar a las nueve en punto.
El viaje pasa sin novedades, y están acercándose a la estación de esquí.
Diego- ¡Mira!- nos va a parar la Guardia Civil.
José- Sí, seguro que es un control rutinario.
Agente de La Guardia Civil- Buenas tardes, su documentación, por favor.
Diego (a José)- Dame los papeles, está en la guantera.
José- Aquí tienes.
Diego le da los papeles al policía. El agente mira los papeles.
Agente- ¿El coche es suyo?
Diego- No es de nuestro jefe, nos lo ha dejado para el fin de semana.
Agente- Enséñeme la documentación del seguro.
Diego- Aquí tiene.
Agente- Muy bien, todo parece en orden. ¿Y las cadenas? Desde aquí es obligatorio circular con las cadenas puestas.
Diego- Están en el maletero, las pondremos ahora mismo.
Agente- Muy bien, y una vez que las hayan puesto, pueden continuar.
Poco después, las cadenas están instaladas, y están en camino de nuevo.
Diego- ¡Mirad!, Allí a la izquierda, hay una señalización que pone "Camping y cabañas- Finca Santa Marta"- es allí donde tenemos reservada nuestra cabaña.
Aparcan el coche, y entran en la recepción.
Diego- Hola, tenemos reserva en nombre de López Carrillo.
Recepcionista- Sí, la tengo apuntado aquí. Déjame tu DNI.
Diego- Aquí está.
Recepcionista- muy bien. Bienvenidos a la sierra. Mi hija María os enseñará vuestra cabaña. El restaurante cierra a las once. Mañana hay un microbús que sale para la estación de esquí, sólo tarda 15 minutos. Si tenéis cualquier problema, aquí estamos.
José- ¡Muchas gracias, seguro que lo vamos a pasar muy bien nuestra estancia aquí!
...to be continued.
VOCAB: NEW WORDS - NEW EXPRESSIONS
Conseguiste- did you get (past tense of verb: conseguir- to obtain or get, manage to).
Subid al coche- get in the car (command form of subir, here means to get into, also means to go up, or rise).
Merendar- verb, to have a snack or picnic.
Madrugar- verb, to get up early.
Sin novedades- expression meaning uneventfully.
Dame- give me, command from of the verb dar, to give.
La guantera- the glove compartment.
Suyo- yours.
Enséñeme- command form of enseñar, to show.
Seguro- (here) insurance.
Parece- seems, from verb parecer, to seem.
Circular- to circulate, here meaning to drive.
Cadenas puestas- chains fitted (put on).
Maletero- boot (of car).
Pondremos- we will put (future of verb poner, to put).
Ahora mismo- right now.
Una vez que las hayan puesto- once you have put them on.
Una señalización- a sign.
Apuntado- noted down, written down.
DNI- Nacional identity card.
Un microbús- minibús.
Tarda- it takes, from verb tardar, to take (time).
Cualquier- any (as in whatsoever).
Seguro que- it's sure that.
Lo vamos a pasar muy bien- we are going to have a good time.
¡Hasta Pronto!
Las aventuras de López y Sánchez will continue next month...
Send us your feedback
To offer feedback about this article or to enquire about Spanish lessons in Albox, please click here and use the contact form.
Why not give our crossword a shot...
Click a clue to start, and then enter your answer. Don't forget to time yourself..!
Article First Published: Wednesday, 3rd March 2010, 10:13 CET
Last Updated: Wednesday, 3rd March 2010, 11:07 CET
Author: Simon