Spanish Lesson No 10
El viaje a la Sierra Nevada (tercera parte)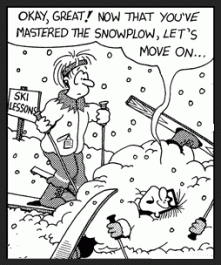 López y Sánchez...dos amigos.
¡ Bienvenidos de Nuevo ! Here is the continuing story about our two friends...read it carefully and use the vocab guide below to help you translate. If you read last month's story, you will know that our friends have just arrived in the mountains of Granada for a weekend's skiing. They are staying in a "cabaña" up in the Sierra Nevada, and are going to have some ski lessons. Pedro and Juana, Diego's kids, are going to have a go at snowboarding.
El viaje a la Sierra Nevada (tercera parte)
Diego, Amalia, y sus dos hijos Pedro y Juana, junto con José y su mujer, Mari Cruz, han llegado a la sierra, y han encontrado la cabaña donde van a alojarse durante el fin de semana. Deciden quedarse en la cabaña, y han traído comida para la cena, y pan y café para el desayuno. Han encendido un fuego en la chimenea, y ahora están muy a gusto en su nuevo hogar.
Amalia – He puesto la mesa, ¡venid, todos, a cenar!
Pedro- Qué bien, tengo mucha hambre.
Juana- Tú siempre tienes hambre.
Diego- Bueno, todos tenemos hambre, y tenemos que cenar bien, porque mañana nos espera un día muy activo.
Amalia- Pues hay de todo……..embutidos, quesos, una ensalada, un poquito de jamón.
Mari Cruz- Yo sólo voy a tomar un poco de ensalada, sabéis que estoy a dieta.
Diego- Sí, pero este fin de semana estamos aquí a pasarlo bien, así que ¡olvídate de eso!
Después de la cena se acuestan, porque tienen que madrugar.
Diego- He puesto el despertador a las siete. Así nos dará tiempo a llegar a la estación de esquí para las nueve. Buenas noches.
Al día siguiente, se levantan, se visten, desayunan y cogen el autobús, que sube a la estación de esquí. Se presentan en la recepción, y enseñan sus vales para las clases y los forfaits a la recepcionista.
Recepcionista- Voy a llamar a mi compañero Paco, para que os lleve a donde os pondréis el equipo. (A Pedro y a Juana)-chicos, idos con Lucía, os llevará a la clases de snowboard. Empieza dentro de poco.
Amalia- Venga, ¡que lo paséis bien! Nos veremos a la hora de comer.
Juana y Pedro- Vale, Mamá.
Llega Paco, el monitor de esquí, y les lleva y les da a cada uno sus esquís. Después, van a la telesilla, y esperan para subir a las pistas.
Paco- Primero os voy a enseñar los movimientos básicos; como poneros los esquís, y como moveros por la nieve. Y muy importante: ¡como pararse! Vamos a bajar aquí, esta ladera es poco empinada, es ideal para empezar.
Bajan de la telesilla y empiezan la clase. Se divierten mucho, y pronto llega la hora de comer.
José – Qué hambre tengo, vamos a tomar uno de esos bocadillos enormes. Hola chicos, ¿qué tal la mañana?
Pedro- ¡Estupendo! Nos hemos caído mil veces, pero lo hemos pasado a bomba.
Diego – Bueno, a comer, que empezamos de nuevo a las tres y media.
...to be continued.
VOCAB: NEW WORDS - NEW EXPRESSIONS
Junto con - along with, together with
Estar a gusto - to be content and comfortable, at ease
Nos espera un día activo - a busy day awaits us, is ahead of us
Embutidos - collective term for cured meats (eg. chorizo)
Olvídate de eso - forget about that (command form of verb olvidarse)
Madrugar - to get up early
He puesto el despertador - i have set the alarm (poner here: to set)
Nos dará tiempo - it will give us time
Se presentan - literally, they present themselves (they show up)
Vale - a voucher
Forfaits - (as explained before) ski passes
Idos - go (command form of ir, to go)
Dentro de poco - in a short while
A cada uno - to each one (here, to each of them)
Telesilla - chairlift
Pararse - to stop
Ladera - hillside
Empinado - steep (poco empinado…..not very steep)
Se divierten - they have fun (divertirse, to have fun)
Lo hemos pasado a bomba - we've had a fantastic time
¡Hasta Pronto!
Send us your feedback
To offer feedback about this article or to enquire about Spanish lessons in Albox, please click here and use the contact form.
Why not give our crossword a shot...
Click a clue to start, and then enter your answer. Don't forget to time yourself..!
Article First Published: Monday, 5th April 2010, 10:52 CET
Last Updated: Monday, 5th April 2010, 17:52 CET
Author: Simon