Securitas Direct S.A.U.

We speak
---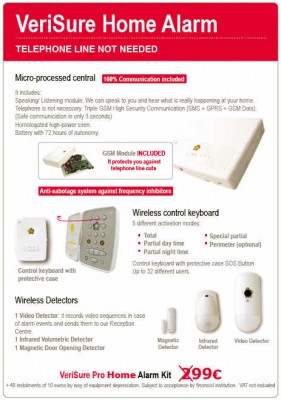 Click images to enlarge
---
Description
Securitas Direct monitored alarm systems.

These security systems are the very latest specifications and include video motion detector. This enables the monitoring station to see what exactly has triggered the alarm.

Once the alarm has been triggered, if the English speaking Securitas Direct call centre do not receive your password to signify a false alarm they will call the Guardia Civil who are contracted to attend.

Included in the kit is:

Control box "talk/listen" system with S.O.S facility.

Key pad with S.O.S facility.

Choice of 3 detectors from magnetic contacts, motion detectors and video motion detectors.

Key fob to arm and disarm the alarm plus the S.O.S facility.

The S.O.S facility enables you to call an ambulance, fire brigade or the Guardia Civil whichever is required. Obviously this is a great benefit to many people and is free of charge.

This alarm is yours to take with you if you move and there are no charges for false alarms.

The kit is fully wireless and is installed in less than 2 hours.

No telephone line is needed, all the system bidirectional communications run trough a SIM card via SMS/GSM/GPRS (like a last generation mobile phone).

If you require any more information or a free assessment of your property or business please call:

Jeronimo Rodriguez Securitas Direct Vera 626 35 74 74.
---
Opening Hours
Call directly to the provided mobile phone as we are actually looking for a person to attend the office.

Opening hours will be from 9 a.m. to 1:30 a.m and 4 p.m to 8 p.m.
---

View the Securitas Direct S.A.U. web site →
---
Contact us
Address:
Ctra. de Ronda S/N
Vera
04620
Telephone: 950 092 288
Mobile: 626 357 474
---